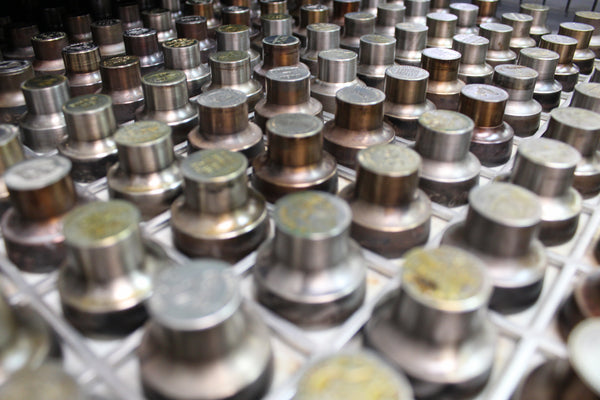 Custom Tokens
Create lasting impressions with custom tokens. Hoffman Mint's artists can take your company's logo or artwork and create a custom token that is unique to your business.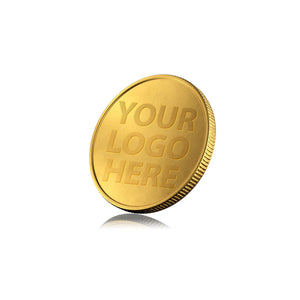 Create Lasting Impressions
Hoffman Mint has a design staff that can take your company's logo, artwork or text and create a custom token. Or, we work off of your creative vision and design artwork for you.
You can customize one or both sides of the token. 
Tokens can be designed for any business or occasion and come in various size tokens.
Custom Token Order Form
Frequently Asked Questions
Is the an order minimum or maximum?

The minimum order quantity is 1,000 pieces. There is no maximum order quantity. If you are looking to order 25,000+, please email sales@hoffmanmint.com or call (954) 917-5451
What alloys are available and which is right for me?

Below describes our popular alloys. If you are unsure of which alloy is right for you, one of our team members will be happy to assist.

ALLOY: A monogeneous mixture, usually of two or more metal elements.

Our most popular alloy is Alloy 260. Alloy 230 is also very popular, but mostly for the Car Wash industry.

ALLOY 260: All of our golden brass coins are of alloy 260. This alloy is more yellow in color than alloy 230. It is also known as 70/30 brass. This can be used among many industries and is very versatile.

ALLOY 230: Alloy 230 operates electronic mechanisms typically used in carwashes. It is also known as 85/15 brass or high security alloys.

HM ALLOYS: Also known as high security alloys, these alloys are unique to Hoffman Mint and are recommended for carwashes. We offer a variety of sizes and alloys because each variation has a unique electronic signature enabling coin mechanisms to distinguish them from other tokens.
How much do custom tokens cost?

Click here to view the custom token price list. You will notice a die fee is listed on the bottom. This fee is to create a custom die for your logo/artwork and is charged per custom die created.

Kindly note that prices are subject to change. All prices are shown in USD & are priced, per 1,000 pieces (one order, one ship), FOB Fort Lauderdale, Florida.
What is a die?

A die is an engraved or etched tool which is put into a coining press and strikes an image onto a blank. The image on the die is a negative impression of what will be struck on the coin. The image shown in the above heading shows what a die looks like.
Do both sides need to have a custom design?

No! You can choose to have one side minted with a custom design, and have the other show a stock design. Of course, both sides of the token can be minted with a custom design.
How can I proceed with ordering?

If you know what you would like to order, kindly fill out the linked order form and submit it via email to sales@hoffmanmint.com. If you would like further assistance to determine which token type is right for you, please fill out the Contact Form, email sales@hoffmanmint.com or call 954-917-5451 to speak with one of our associates. When your order has been placed, we highly recommend saving a copy of your order - especially if it's a custom token design. This helps to ensure a smoother reorder process!
Does my artwork need to be a particular file type?

No! Submit your logo or artwork and our in-house artists will work their magic to recreate your file into the necessary format. If you have a hand-drawn sketch, we will use that as the starting point.
How do I submit my artwork?

Email your artwork to sales@hoffmanmint.com with a detailed explanation as to what you are looking for!
How does the proof process work?

Start by sending your logo or artwork to sales@hoffmanmint.com. If you do not have digital artwork, you can hand sketch your concept using the Order Form. If you are choosing to have one side custom and one side with a stock design, please indicate which stock design number you've selected. Click here to view stock design options. Please note that tokens cannot have a blank side.

Our designers will get to work on recreating your artwork into the necessary file type. Once completed, a team member will send you the artwork for your approval. Upon approval, the order will be released to production. From order submission to shipment date, the entire process takes about 10 to 15 business days. Kindly note that delays in artwork approval can add time to the shipment date, so please provide approval as prompt as possible.

We look forward to helping you bring your vision to life!